January 2002 in Mexico
I spent the first two weeks of 2002 in Mexico. We flew from LAX to Mexico City December 31, spent a few days in the city, then went to Tlapa, where my parents live, then back to Mexico City for a few days, then flew back January 11.

We took lots of pictures because we had digital cameras along. I've put a lot of them in this section of my web site. Below, you can find a guide to the different sections, by date, or just see an overview at the very bottom of this page.

I also made a special section of pictures of Faith Nam, so her friends can see pictures of her in Mexico.

First of all, here's a summary of where we traveled: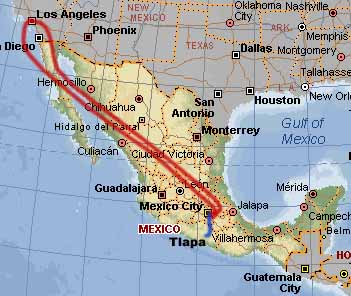 January 2002 Travels. Red by plane, blue by car. Map by MapQuest.
LAX to MEX: Kicked off the flight!

The first three hours of our trip were uneventful. Lois Thorpe dropped the five of us off at LAX, then we checked our bags, and sat around waiting (since we had arrive three hours ahead of schedule, like you're supposed to).

But then it came time to board. I don't have a passport, like everyone else, so I brought along picture ID plus a copy of my birth certificate. That was good enough two weeks before, when I went to Baja for the day. That was good enough for the guy downstairs who checked our papers while checking out baggage. But it wasn't good enough for the lady who checked just as we were boarding. She said I needed the original.

So, everyone else went ahead without me, and I flew on Mexicana 3 hours later. I had to go to see Notary Public Shawn P. Milstead, pay him $25, and sign an "Affidavit of Citizenship". That took all of 5 minutes to do, but by the time I got over to the international terminal and got it signed, it would have been to late, so I had to go on another flight. If they had said something while I was checking my bags, I would have had two hours to get this figured out!

So instead of flying on United at 11:05am, I flew on a 1:00pm Mexicana flight (which, by the way, pushed back at 12:51pm, almost ten minutes early. I don't know what you would do if you were running late, but got there at 12:55).

Meanwhile, my parents picked up everyone else from the airport, and they went to see the Zocalo, the center of town, then came back a little later to pick me up.

So... next time I go somewhere, I'm going to have a passport.

Part 1 - In Mexico City Dec 31 to Jan 2

Archived 2018-Jan-27.

[Next: Part 2, in Tlapa, Guerrero]

Created and maintained by Matthew Weathers. Last updated Feb 2, 2002.