Market in Tlapa
We spent Thursday, January 3, in Tlapa. We went shopping in the market with Mom. Here's what the market looks like.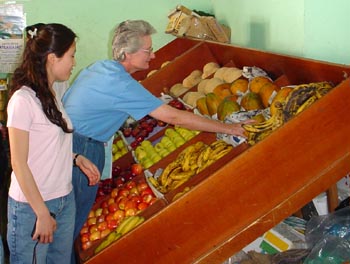 Faith and Mom, picking out fruit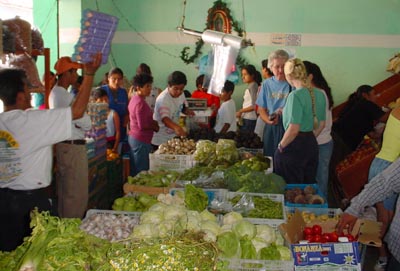 This is the fruit shop where Mom usually buys fruit and vegetables. It's just a couple blocks away from their house, at N 17°32'51.8" W 98°35'00.3"


After buying fruits or vegetables, Mom soaks them in a solution of bleach water, to sterilize them. That's what the big blue bucket on the kitchen sink is for.


Kristen checking out the fresh tomatoes

We stopped by a shoe store, where Faith Nam bought some clear sandals:


I looked at some shoes, but the prices are higher than in the U.S., so I didn't buy

You can get good roast chicken at this chicken stand
The tortilla factory is a mandatory stop on the shopping trip:


We got 2 kilos, at 5 pesos per kilo (9.18 pesos = $1 USD)

[Next: More Scenes of Tlapa]

Created and maintained by Matthew Weathers. Last updated Jan 18, 2002.