Minneapolis Trip - December 2008
[Page 1][Page 2][Page 3][Page 4][Page 5]

I had been wanting to visit my friends Dan & Heather in Minneapolis for a while. I had also wanted to go to Ohio to see Andrew & Jill, and Tennessee to see Brent. These are all former roommates & wives. However, a month or so ago, Adam and I realized they would all be in Minneapolis at the end of this month. Andrew & Jill moved there from Ohio and Brent was visiting there from Knoxville. So all we had to do was make one trip, and we would see them all. Here's the group of us all together: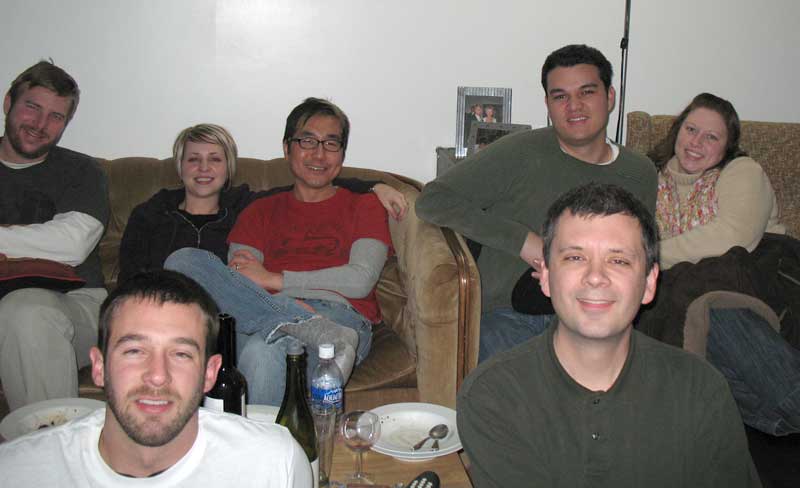 Back: Brent, Heather, Dan, Andrew, Jill
Front: Adam, Matthew
We happened to be there during a cold spell. We arrived around 7:00 p.m. on Saturday the 20th, and left late at night on Tuesday the 23rd. As you can see, it was below 5 F most of the time we were there.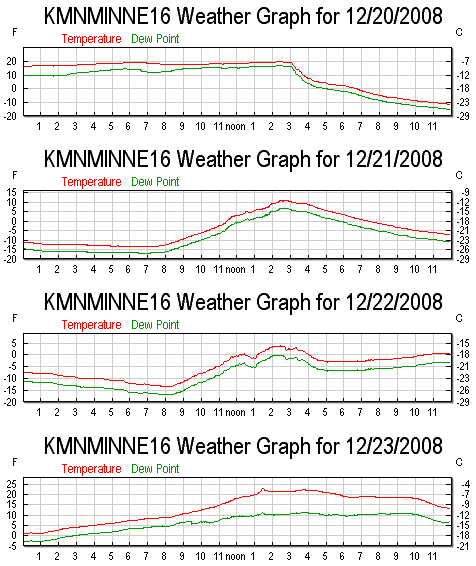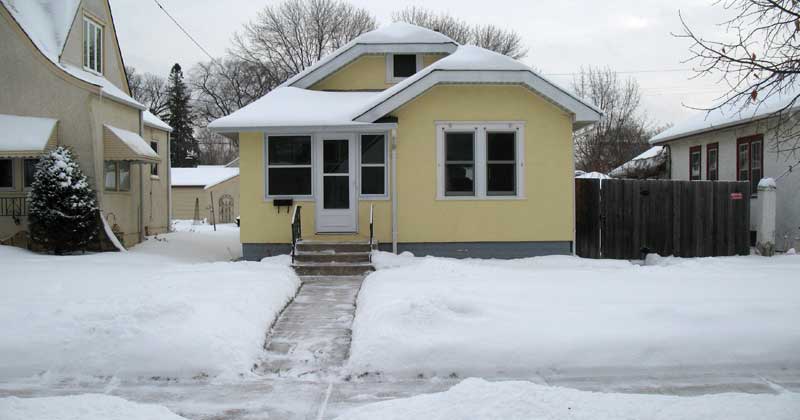 Dan & Heather's house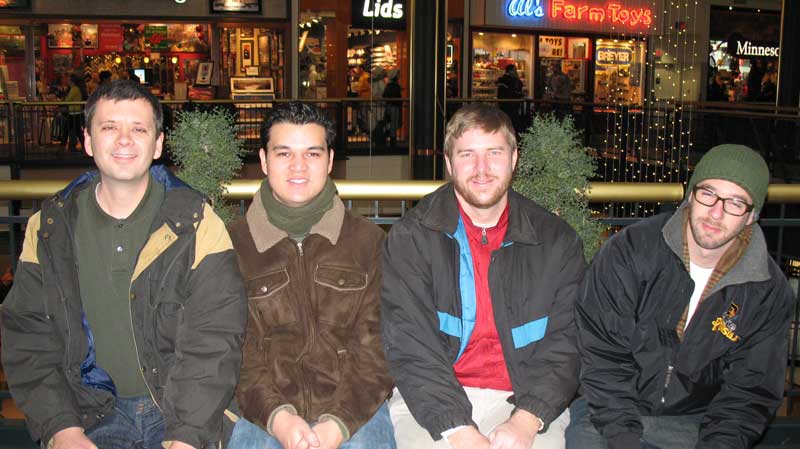 Matthew, Andrew, Brent, Adam at the Mall of America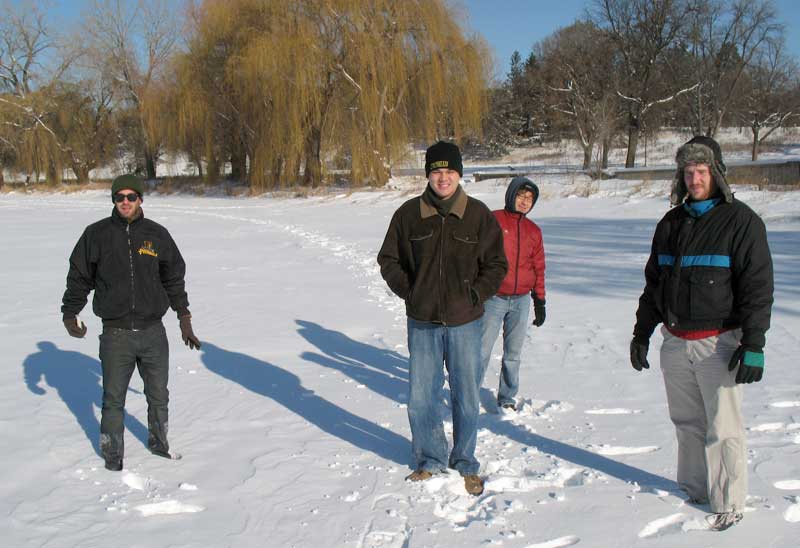 Walking on frozen lake Nokomis.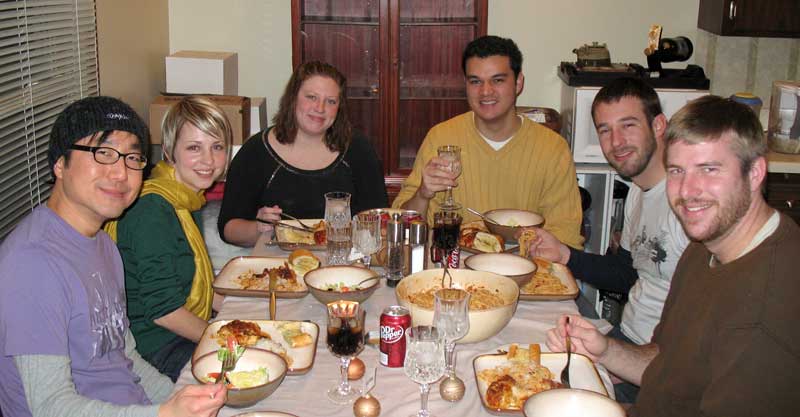 Dinner Sunday night at Andrew & Jill's new apartment.
Andrew and Jill just moved to a new apartment a week before we visited. They got moved in enough to host dinner there Sunday night.

Here's a typical street scene - snow everywhere. It's not going to melt for a couple months - the temperature will probably not go above freezing until February at the soonest.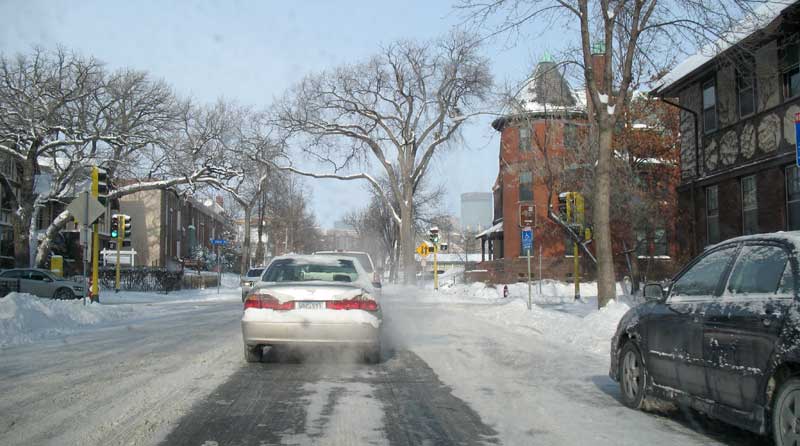 We were supposed to arrive Saturday afternoon, but we were delayed six hours at the Denver airport because it was snowing in Minneapolis. Twice we got in the plane, taxied out, then returned to the terminal and got off. The third time, we taxied out, then had to wait 45 minutes before taking off.At least we got there that day - another flight to Minneapolis was cancelled. About an hour after we left Denver, Continental 1404 went off the runway and burst into flames. A couple people were hurt, but no one died.

Saturday, December 20th, we went out to dinner after arriving. Adam and I stayed at Dan & Heather's place the three nights we were there.

Sunday, we slept in then went to the Minneapolis Institute of Arts (MIA, see artsmia.org), then to Uptown, where we walked around then went to lunch at Davanni's (1414 W Lake Street). Later that evening, we went to Dan & Heather's church - Solomon's Porch. That evening, Brent arrived from Tennesse. After church, we picked him up from his aunt's house and went to see Andrew and Jill in Hopkins, a nearby suburb. See Page 2.

Monday, most of us rode the light rail to the Mall of America, then downtown to see the Guthrie Theater and other things. Later that evening, we all had dinner at Dan & Heather's place. See Page 3 and Page 4.

Tuesday, Adam and I went with Dan to Bethel. He had an errand to run, and we went along to see what it looks like there. Later, we all met at Buster's on 28th, a local pub that served really great burgers. We said good-bye to Andrew and Jill, and the rest of us hung out at Dan & Heather's until it was time for Adam and me to go to the airport and fly back home. The flight back was uneventful. See Page 5 .

Overall, it was a great trip, and we left wanting to return soon. Maybe in the summer next time, though.

Created and maintained by Matthew Weathers. Last updated Dec 26, 2008.