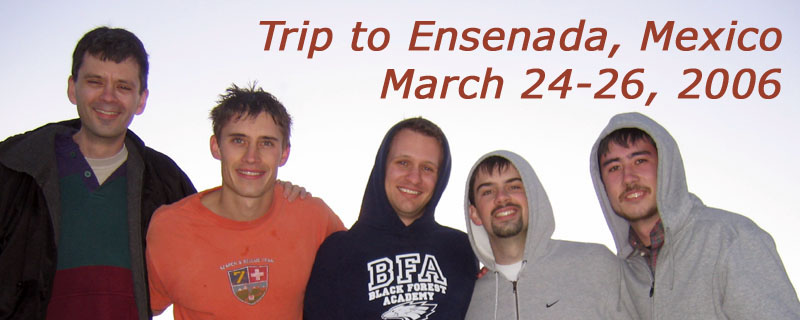 Matthew, Todd, Nate, Ben, Tim
Five of us went to Ensenada two weeks before Ben's wedding. It was Ben's final vacation as a bachelor.

We had no agenda other than to hang out, eat good food, visit the beach, and spend time with each other.

We left Santa Ana around 8pm Friday, and didn't get in until about midnight. We stayed at the Hotel Hacienda, room 34, which has room for 6.

Saturday, we went to the beach, ate food, and looked at the tourist shops. Sunday we went to lunch in Puerto Nuevo and drove back (1 hour 45 minute border wait).

Left: a local church. Above: with a local vendor

Enjoying cotton candy at the Fish Market




We went to Angel Del Mar in Puerto Nuevo for lunch on Sunday. It overlooks the Pacific Ocean, and they have $10 lobster meals. Our favorite: hot flour tortillas (below).

We stopped at the Calimax grocery store for some snacks and drinks on the way to the beach by Punta Banda. We got there an hour or so before sunset. It was slightly overcast and windy. We wore jackets. Except Todd. He went for a run, a mile up the beach. Afterwards, he was the only one brave enough to go in the water.

The hotel room, which had three double beds only cost $60 per night ($24 each for the weekend). Adding gas, insurance, and the grocery store, we each paid about $40 for the weekend. Plus eating at restaurants.

We had a good time hanging out with each other, encouraging Ben, and relaxing before the wedding.

Created and maintained by Matthew Weathers. Last updated Apr 20, 2006.