Camping in December - Page 1
My good friend Ted and I went camping for a couple days after Christmas, 2004. We left Christmas Day, and spent the night at a Motel 6 in Ridgecrest. The next morning, we got up early, did some shopping for camping supplies, then headed up the mountain to Kennedy Meadows Campground, which is in the Inyo National Forest by Ridgecrest, California:


Map courtesy of Mapquest. Here's a link to the Mapquest map of where we stayed: North 36°03.259, West -118°07.905.
Campground Web Site: http://www.fs.fed.us/r5/sequoia/recreation/campgrounds.html

On the way up the mountain, you can see into the valley. This road was very steep with a big drop-off and no guard rails.

It took us about two hours to get to the campground. Here are some pictures of our camp site: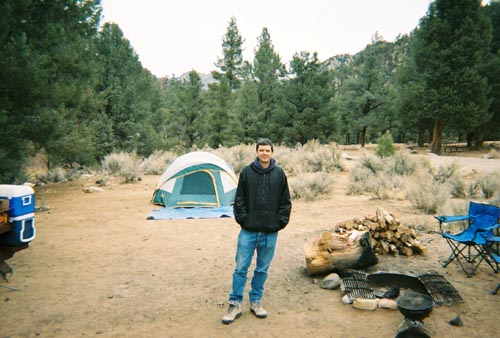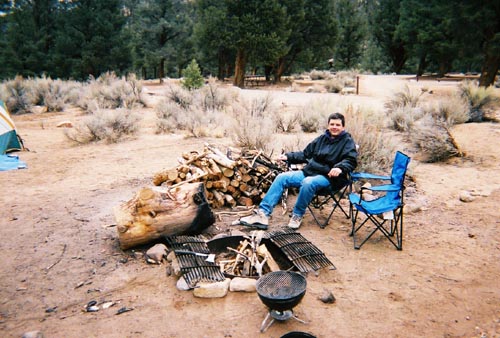 The campsite was only 30 or 40 meters from the South Kern river:

As you can see, there were patches of snow by the river, and parts of the river were frozen thick enough to walk on. Here's Ted, by a rock we threw in to test the thickness of the ice (it didn't go through the ice):

| | | |
| --- | --- | --- |
| (Detail of above picture) | | |
We were the only ones that stayed in that campground. That evening, we found out why.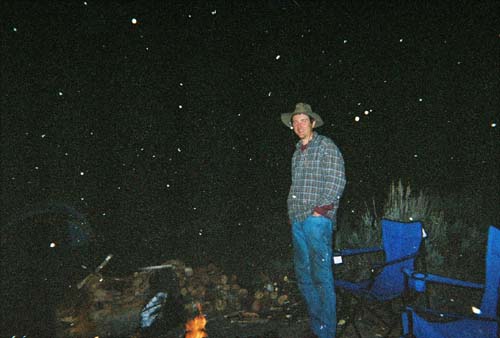 It started snowing around 8:00pm, we weren't sure if it would stick on the ground. The next morning, we found out the answer...

Created and maintained by Matthew Weathers. Last updated Apr 20, 2006.