January 2003 Reunion in Tucson
[At Home][Hiking 1][Hiking 2][Picture Poses][Other]

When we got together a few days after Christmas, it was the first time in four years that my whole immediate family had been together.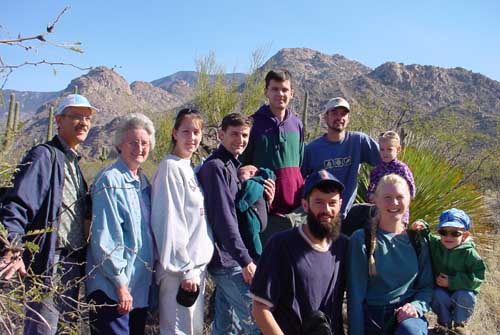 Christmas. Joel and I drove to Tucson from the L.A. area on Monday, December 23, after meeting Andy & Kristen and Faith Nam at the airport and having a quick meal at Gail's house. Andy & Kristen stayed in La Habra for Christmas. Mark & Esther drove from Mexico up to Tucson, and arrived Monday night also. David & Lisa stayed in Michigan for Christmas.

Smith Party. Saturday, December 28 was the Smith family Christmas party, at a church in Sierra Madre. David, Lisa, and family flew in to LAX shortly before the party started (in fact they were a little late, coming straight from the airport). That night after the party, all 11 of us drove in two vehicles back to Tucson, arriving just a few hours before church on Sunday.

New Years Day. We were all in Tucson that whole week. On New Year's Day, we went on a short hike in the Catalina State Park. Joel's friend Renee Graves arrived from Florida to Visit on January 2nd. We spent the week hanging around, hiking, eating, inviting people over and playing with the kids.

Back to L.A. Andy, Kristen, and Matthew drove back to La Mirada and La Habra on Monday morning, January 6th. Dad, David, Lisa, Naomi, Josiah, and Gabriel all came back about 6 hours later, then we saw them off at the airport on Tuesday night, the 7th, on their way back to Asia. Joel and Renee spent a few extra days in Tucson, and came out to the L.A. area on Wednesday, the 8th. I took the two of them on a tour of downtown L.A. and Hollywood on Friday the 10th. We got to see Steven Spielberg receiving his star on Hollywood's Walk of Fame. Renee flew back to Florida the next day.
| | |
| --- | --- |
| | |
Pictures and Video. We took a bunch of pictures during our time together. See the links below for some of them. I also worked on digitizing some video. Ask me for a CD with the video if you want to see that, it's all too big to post online.

[At Home][Hiking 1][Hiking 2][Picture Poses][Other]

PS - Why all the detail about who went where on what day? Well, my family likes to sit around and think back to years past and try to conjure up memories of who traveled where and when. So this page will help avoid the future myth and random guesses that I suspect accompany most of our such memories.

Created and maintained by Matthew Weathers. Last updated Apr 20, 2006.