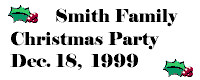 Page 1

[Page 1][Page 2]
Every Saturday before Christmas, we have our annual Smith Family Christmas Party. This gathering includes all the descendants of my mother's parents: Dudley and Fern Smith. We met this year at one of the banquet halls at California Christian Homes, where Grandma now lives.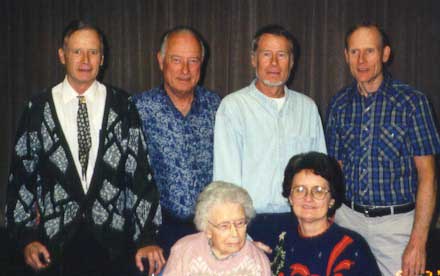 Fern Smith with her five children.
David, Carroll, Phil, and Ron Smith (back)
Fern, Esther Weathers (front)

Grandma Fern Smith with her five children:
Back, Left to Right: David, Carroll, Ron, Phil
Front: Grandma, Esther Weathers


With some inlaws:
Bonnie & Carroll Smith, Arliva & Phil Smith,
Kathy & Ron Smith, Esther & Mark Weathers


Fern Smith, Esther Weathers


Phil & Arliva Smith


Carroll & Bonnie Smith,
and their new Toyota Camry


David Smith and his grandson Joel Smith


Uncle David, signing up for door prize gifts


Uncle David, typing an email to Greg & Mindy in Africa


Debbie and her kids


Esther Weathers and Ron Smith


Jim and Patti Tinley


Jeff and Kari Killough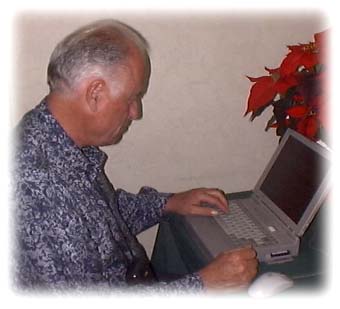 Uncle Carroll Smith, writing an email


All the grandkids - and some spouses

[Next]

Created and maintained by Matthew Weathers. Last updated Apr 20, 2006.