Camping in December 2004 - Page 3
Again, it snowed most of the night and kept snowing until the afternoon.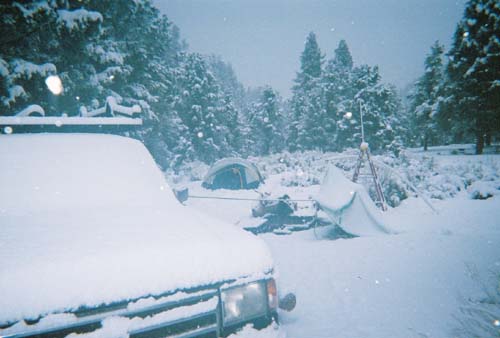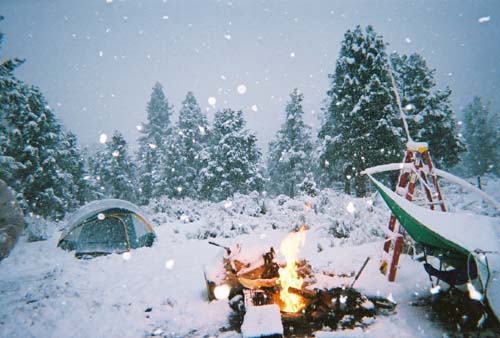 We got a fire going, and tried cooking breakfast, but eventually, the fire went out because of the cold, and because the wood was kind of wet.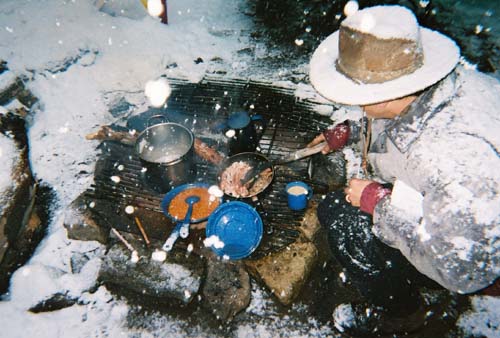 Ted got the fire going again with a little kerosene (see red can in picture):
Then we had a nice, big fire for cooking breakfast. It kept snowing and snowing. We decided to get going down the mountain before the roads became impassible. We drove a mile or two to the little town of Kennedy Meadows, and came upon a group of people trying to extract a truck from a ditch: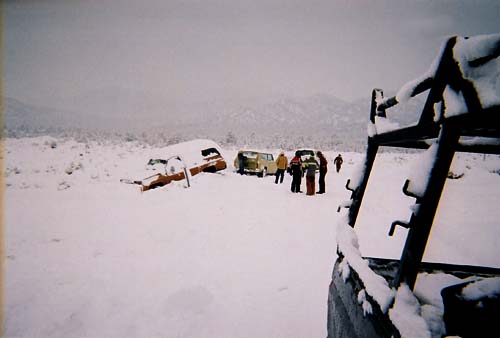 We offered our help, and stayed there for a little while. The locals told us that the pass we would have to get over was 7500 feet, 1300 feet higher than that location. We started off, and only got one mile to this place, where we got stuck: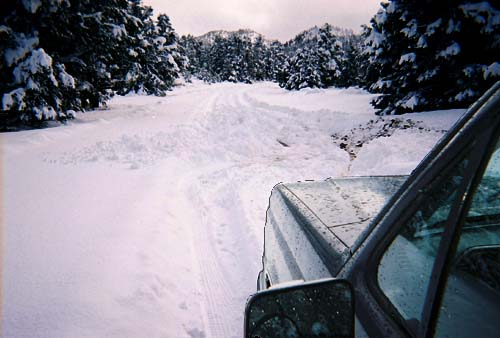 Backing away from the place where we had just spend an hour digging ourselves out
Ted's truck has two-wheel drive, so it was hard to stay on the road. We knew the road would only get worse with higher elevation, and we started having visions of spending another night in the mountains. We knew a bigger storm was coming that night, so that didn't sound appealing. It took us about an hour to dig ourselves out of this place and get back on the road. We knew from the GPS that it was only a mile back to where other people were working on that stuck truck, so we decided to head back there. Not wanting to risk losing momentum by turning around, Ted drove in reverse all the way back to that place.

Some of the locals helped us out, and told us that a snow plow had left early in the morning, and should be returning soon, and that others were also going to try to get down the mountain that day. We put on chains, and tried again. Here's what the road looked like: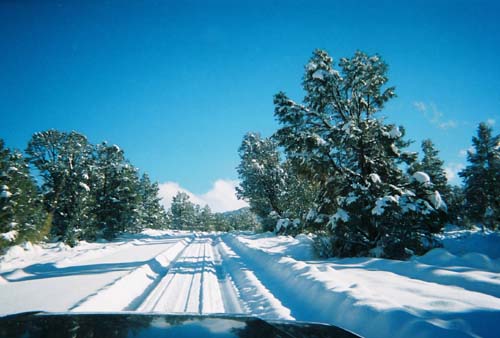 This time, we got a little farther before getting slightly stuck again. We had spent just 2 or 3 minutes shoveling snow before seeing this welcomed sight: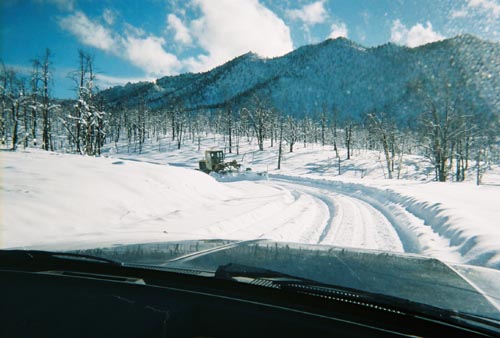 He told us he had plowed most of the road to the county line but not beyond that, so it was probably passable, but he warned us about the steep downhill grade at Nine Mile Road. Later, we passed another car that described Nine Mile Road as "treacherous" because it hadn't been plowed and because of the steep drop-off, but said a few vehicles had made the trip, so there should be tracks to follow.

We slowly made it up to the pass at 7506 feet elevation (at N 35°55.690, W -118°03.210), and got a little ways before finding the end of the plowed road. We met up with a family in two vehicles in front of us: a pickup truck and a minivan, and caravanned together slowly down the hill. The truck was towing the minivan in front of us, so that helped clear some of the snow. They got stuck once, then we got stuck once, and we helped each other dig out. Eventually two other pickups caught up to us, and all five vehicles slowly crept down Nine Mile Road: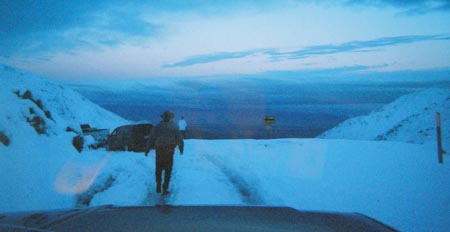 At one point (pictured above, about the same place as our first picture on the way up the mountain), we all had to stop on a dangerous curve because we met another vehicle coming up the mountain. When they described where they were headed ("beyond the boy scout camp"), they were told there would be no way to get through because that road hadn't been plowed at all. They (wisely) decided to turn around and go back down the mountain with us. It took a while to get them turned around, but the six vehicles made it down the mountain (very gingerly) without further incident.

We were elated to get below the snow line. It had taken us 8 or 9 hours to get down the mountain from our campground. We parted company with our caravan, and headed to a nice warm hotel (through dense fog an torrential rains at times). It was quite an adventure.

Created and maintained by Matthew Weathers. Last updated Apr 20, 2006.