At USC
[Home][Downtown][Reflections: 1 2][Angels Flight][Subway][Hollywood: 1 2][USC]
We visited the campus of USC. We just walked around a little bit, to see the place where I'll be going to school next semester.

We also saw an IMAX show called Adventures in Wild California (See http://www.wildca.com/ ):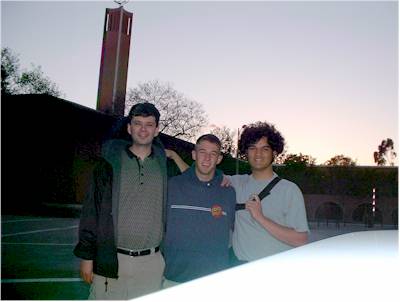 Matthew Weathers, Adam Wolven, Andrew Moss
[Next: Hollywood]
[Home][Downtown][Reflections: 1 2][Angels Flight][Subway][Hollywood: 1 2][USC]

Created and maintained by Matthew Weathers. Last updated Apr 20, 2006.